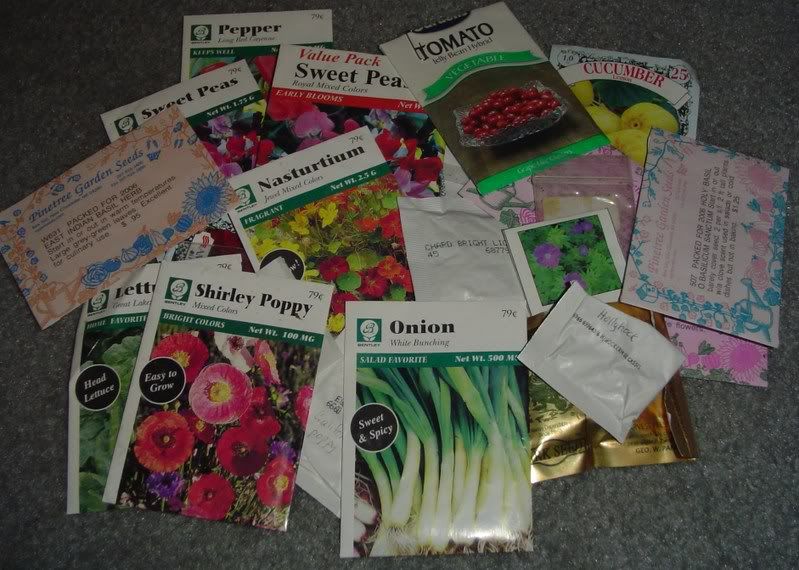 Package from Mary Ellen. Thanks Mary Ellen!!! (Click on picture for larger image)
The other day, I received a swap package from a fellow gardener named Mary Ellen. I'm part of a group called "Petal Pushers" which hosts its forum on
Gardenweb
. They host a monthly swap which consists of partners and you simply send them seeds and garden supplies. It's a nice surprise every month since everyone gives different seeds to their partners. It's like an anticipated present every month and you get the benefit of giving away your surplus/left over seeds to others who might be interested in them. I planted my eggplants yesterday. Last year, I didn't get any eggplants although I did get a lot of pretty velvety leaves and some flowers. It was partly my fault because I had to housesit during the hottest times of the summer and didn't have anyone to water my garden. After my house sitting days, I had to move apartments so everything had to go except for a select few plants. I hope I get tons of eggplants this year. I planted 8 plants so what are the chances I'll get one productive plant? I hope I hope...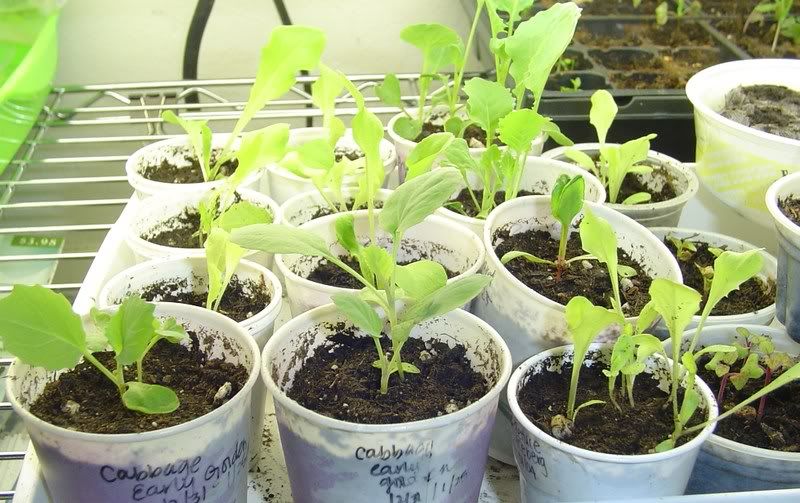 Seedlings Transplanted (cabbage) (Click on picture for larger image)
I transplanted some of my seedlings into their own individual pots on the 29th. I think they were getting crowded in my seed trays. I transplanted some cabbage, broccoli, swiss chard, bok choy, and a lot of lettuces. They'll be ready to go out in 2 weeks. I plan on putting them in full sun since it's still cool outside and temps are moderate (around 60 degrees). I don't think they'll get sun burnt or anything. I'll just make sure to set them out in stages (i.e. slowly acclimate them to outside conditions).